What happened in Carizalito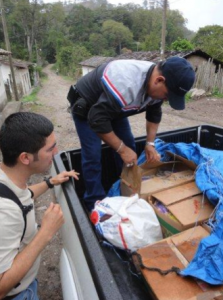 Karen and I spent the day with Saul from Plan International. Our first order of business was to visit Carizalito where we had heard that the school would not be opening this year. "Why" was our question. There were "problems" and 11 of the 19 families had moved. We had heard rumors of drug related problems and murders. Now there are 9 children who won't be going to school this year. The magic number of kids to warrant a teacher is 25.
Then we moved on to tour the Centro de Salud in Santa Rita and spend the rest of the day distributing packets of school supplies in mountain villages.